After making a major breakthrough with work over the weekend (which earned me a well deserved break), I decided to get out to see a bit of the action at the Circuit of Munster – run by Limerick Motor Club.
I'm fortunate enough to live close to some of the stages, so after a short lie in, I made my way to a tight hairpin on SS2.
Photography Bit:
The weather was generally good, but massive clouds were racing across the sky – which made shooting an absolute PITA.  Fantastic Sun one minute, relative darkness the next – so you'll notice the exposures below vary massively. I also got to grips with  my Circular Polarizer… not so easy to use on moving objects though.  You get rid of a certain amount of reflections, but because the cars are moving and they all have different lines for the bends, you get will get reflections in different places every time.
The Photos:
As usual, click to enlarge.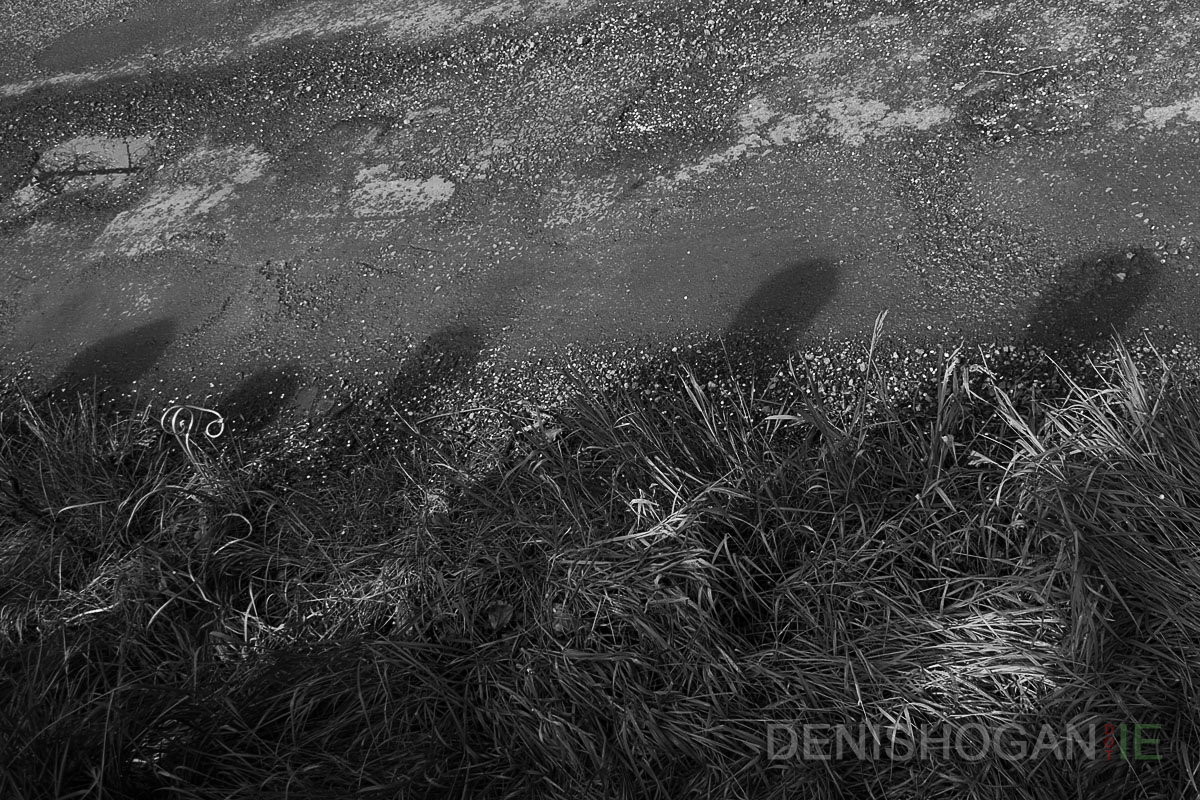 My token B&W shot for the day – Shadows of the spectators in the early morning Sun.

Kevin Barrett corrects a little too early as he attempts to exit the hairpin. He very nearly clipped the ditch on the exit, but got away without doing any damage at all.

Local man, Paul Purtill only knows one way – flat out. Drivers side mirror alreay knocked flat into the body – after a brush with a hedge no doubt.

John Danaher in his beautifully prepared S14 powered Compact. John was kind enough to let my dad and I have a good look at the car last year. Something else! Nice to see him going well.

Pat Price returning to the hairpin after he overshot.

Mike O'Connor sideways in his MKII.

No. 136 after missing the hairpin.

Marshals, Media and Spectators enjoy Sean Kennedy's sideways antics in his AE86 Corolla. I'm not a Twin Cam fan, but there were two out in the Munster this year – both were flying and really entertaining to watch.

Benny Kennedy must have a great sense of humour with a bumper sticker like that on his Civic (click the image to enlarge).
After SS2, the weather looked to be improving and I really couldn't face going back to work, so I decided to make my way over to Knocklong and on down to SS6. I found a great spot thanks to the Marshals! Nice.

Derek McGarrity on SS6.

A local kid watches McGarrity exit the junction.

I hope Liam Higgins' sponsors "EasyFix" can sort out that rear wing for him.

Another local man, Ed Synan carrying some speed through the corner.

Yet another local man and regular Hillclimb competitor, Peter Cummins  in his beautiful Darrian T90. Nice to see Peter in action – normally I'm worrying about him on the time sheets. 😉 I have another shot of Peter on my old site: Click Here.

Eddy Kennelly in his spotless Escort.

As I said earlier, the Twin Cams were entertaining today. Mike Neligan gets it sideways to the delight of the Marshals.

Jack O'Shea in his bright red Mini.

Junior entrant, Chris Butler was the subject of an attempt at a pan/zoom shot. I kinda like it – because it's different!
Prints:
Feel free to contact me if you are interested in prints.